| Item ID | Starting Bid | Bids | Current Bid |
| --- | --- | --- | --- |
| 66374 | $2,875.00 | 0 | $0.00 |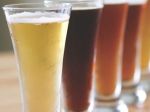 The Brewvana Imbibing Tour with Forktown Alphabet District Tour Portland with 2-Night Stay and Airfare for 2 from Canada
Portland is a craft beer mecca and people here take beer seriously. With humble northwest roots as a refreshing drink for miners and lumberjacks, Portland's affinity for a good brew has evolved into a burgeoning craft beer movement since the early 1980s. New beer businesses are popping up every day – allowing for practically unlimited new heady experiences.
Experience Includes
Brewvanna Pacific Northwest is Best Beer Tour for (2)Breweries visited: Baerlic, Hopworks, Urban Brewery, Migration Brewing & Scout Beer Garden
Forktown Alphabet District Walking Food Tour for (2)
2-Night Stay in a Standard Guest Room at a 4-Star Property
Round-Trip Coach Class Airfare for (2) from Canada* to Portland, OR
Pacific Northwest is Best Tour: This tour is a perfect balance of beer education, diving into the brewing process, and most importantly having a great time while enjoying great beer.
Our tours are all inclusive. They include more than enough delicious beer and good eats, transportation on our epic beer-loving short bus, beer journal and tasting guide, handy dandy BREWANA pen, pilsner glass, postcard, pretzel necklace (for palate-cleansing between beers), and a safe & fun tour guide!.
In addition to a thriving craft beer scene, Portland offers a diverse and delicious local food culture.
The Alphabet District Tour: The Alphabet District is one of Portland's oldest neighborhoods and this tour explores some of its best-loved restaurants as well as some exciting new hot spots. You'll get the stories behind the tastes through conversations with chefs, restaurant owners, and food crafters. Your culinary travel in Portland Oregon would not be complete without a visit to the Alphabet District.
Tastes are likely to include...
• Fruit mimosas & a local greens salad with herbed goat cheese, wild mushrooms, and local hazelnuts
• Reuben sliders with hardwood smoked pastrami on in-house baked rye bread, half-sour pickles and locally brewed beer
• Artisan craft spirits and a distillery tour
• Local Oregon wine paired with bacon-wrapped dates
• Gourmet nut butter sandwiches grilled on challah bread, including a Thai-inspired sandwich and a cheese & fruit plate inspired sandwich
• French macarons and salted chocolate chip cookies
NOTE: Tour times are approximate and do NOT include pick up and drop off. Minimum legal drinking age is 21.