| Item ID | Starting Bid | Bids | Current Bid |
| --- | --- | --- | --- |
| 66361 | $230.00 | 0 | $0.00 |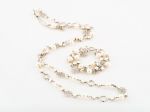 MeganKyle is designed to celebrate the essence of being a woman. Evoking a personal connection, collections form the pieces of the unique mosaic that is every woman; rejoicing in her complex beauty, grace and wisdom.
Beautifully crafted pieces feature pearls, crystals, gemstones, agates and beads. A signature influence is the fusion of diverse cultures. Collections can be worn individually, mixed and layered infusing whimsical charm or making a bold statement. A modern twist of spirituality, personality and energy MeganKyle empowers a woman to share who she is in a given moment.
White: Freshwater Cultured Coin Pearl, moonstone, crystal and shambala bead 18" necklace.